Cosmetic dentist in Burwood
Cosmetic dentist in Burwood
Dental solutions for a beautiful smile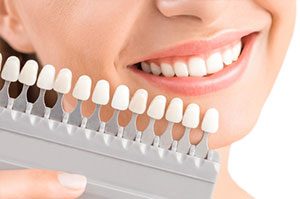 Making even, attractive smiles a reality
Cosmetic dentistry is the art of creating beautiful smiles by covering dental imperfections and whitening the teeth. Unsightly teeth can be covered by veneers, and yellow or stained teeth can be whitened with chairside treatments or home kits.
Porcelain veneers are wafer-thin shells that are placed upon the dental enamel to hide chipped or stained teeth or those that are too small or uneven. They are custom-made in dental labs to fit onto your teeth and be indistinguishable from your natural teeth.
Composite veneers are layers of tooth-coloured resin composite placed upon your teeth to even them out and make them look more attractive.
Teeth whitening solutions use Carbamide or Hydrogen Peroxide to bleach teeth so they can get a few shades lighter, improving your smile aesthetics.
Why should you opt for cosmetic dentistry?
Cosmetic dentistry procedures, be they veneers or teeth whitening treatments, give you the confidence to smile wider and smile more by hiding unsightly teeth.
If accorded the same care as real teeth require, composite and porcelain veneers can last for 15 years, making them a good investment.
The success of teeth whitening treatments depends on your lifestyle. If you avoid food and drinks that stain your teeth, such as coffee and red wine, and don't smoke or chew tobacco, one treatment could last up to three years.
Studies have shown an attractive smile goes a long way in building personal and professional relationships and helps you shine in all social settings.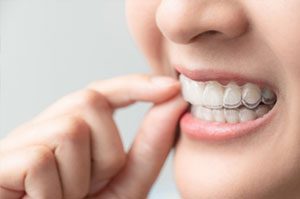 What are Invisalign clear trays?
Invisalign clear trays are an alternative to traditional braces for people whose jawbone has fully grown and who need to correct misaligned teeth.
Clear trays are made of food-grade plastic, fitting discreetly onto your teeth to move them into their new position and are removable so you can take them off while eating or during an important event such as a presentation.
They are custom-created to fit your dental arch and need to be replaced every two weeks, so they apply the correct pressure according to the movement of your teeth.
Clear trays are used to straighten misaligned teeth but are not advised for more complex cases for which traditional braces are still the best option.
Why choose Smile First Dental for cosmetic dentistry?
We are part of My Local Dentists Northmead, that have five locations across Sydney. Each dental clinic is conveniently located and easy to access by car or public transport.
Our qualified, caring, and experienced dental professionals offer the full range of dental services to ensure you have a healthy smile. From preventive dentistry to oral surgery, such as root canal therapy and restorative dentistry treatments like dental implants, we offer all treatments under one roof, so there is no need for referrals, and you can complete your dental treatment in one place.
We regularly undertake courses and training to stay up to date on advances in dental treatments, and our clinic is equipped with the latest technology so you get the best dental care possible.
Cosmetic dentistry treatments at affordable rates


We believe in providing the best cosmetic dentistry services at rates that you can afford, which is why we are happy to accept all major credit cards, dental insurance and health funds. We regularly run promotions and bundle offers; you can check our page to know what's being offered right now!

If you want highly-rated dental treatments around Burwood, contact us!