Top 4 Unique Ideas for Mother's Day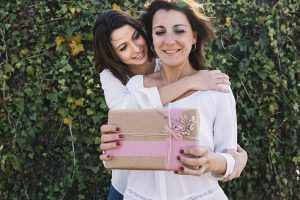 Mother's Day, the holiday honouring all mothers, is observed across much of the world.
While dates and celebrations vary, Mother's Day usually falls on the second Sunday in May and traditionally involves presenting mothers with flowers, cards, and gifts like perfume and jewellery.

But, surely, by now your Mom has all the jewellery she needs, plenty of cards (if she even saves them?), and history of wilted roses.
This Mother's Day, why not give your Mom an unexpected gift, but one that is caring, thoughtful, practical, and long-lived? Why not give your Mother the gift of dental health?
At Smiles First Dental we have a few suggestions for dental gifts that can help support you Mom's dental health and bring a great big smile to her face!
#1 Electric toothbrush
Why not upgrade your Mom's tired old toothbrush for a new electric model that is more effective and convenient?
Electric toothbrushes are a great choice for Moms who may have dexterity, mobility or flexibility issues with their arms, hands, or fingers.
Electric toothbrushes come with impressive features, like built-in timers that ensure you brush for long enough, built-in music to accompany brushing, and pressure sensors to keep Mom from over-brushing.
#2 Dental Emergency Kit
Moms who spend a lot of time on the road, or Moms that work near or with children, would appreciate a dental emergency kit.
You can purchase dental emergency kits online, or you can put up your own. If you go DIY, we suggest including:
Gauze. Gauze is useful for many things, including applying medication or stopping bleeding.
Topical pain reliever. To numb a painful tooth, we suggest clove oil, Orajel or Anbesol.
OTC pain medication. Ibuprofen or acetaminophen helps minimise pain.
Saline solution. Rinses out blood or other substances.
Ice packs. These are handy for numbing pain and reducing swelling.
Dental wax. Mom can use it to avoid irritation from a chipped tooth or even to replace a lost tooth filling temporarily.
Save-a-Tooth system. Lengthens the time you have to get a knocked-out tooth to your dentist.
#3 Give Mom a Smile Makeover
As we age, our teeth can become stained, our gums can recede, and crooked teeth that once seemed 'cute' can become a confidence-sapping snaggle.
If your Mom wants help with her smile, now is the time to give her a smile makeover at Smiles First Dental!
What is a Smile Makeover? It's the general term for any combination of treatments that, when performed together, have a cumulative effect greater than they would have if performed separately.
Let's take a look at two options for giving your Mom a beautiful, new smile.
Teeth Whitening – Smiles First Dental, offers two kinds of whitening systems:
Take-home teeth whitening. This primarily takes place in the comfort of Mom's home, but we do begin take-home teeth whitening treatment by taking impressions or moulds of teeth and constructing custom-made trays to hold bleaching gel.
At home, your Mom uses these treatments for a short period daily. Treatment can last from a couple of days to weeks, depending on the condition of your Mom's mouth.
In-chair Teeth Whitening (Philips ZOOM! Whitening). This is the perfect whitening treatment for Mom's who want immediate results and don't have much time to spend on whitening.
Using bleaching gel and an ultraviolet lamp, Philips ZOOM! Whitening is safe, effective and clinically proven to make your teeth up to eight shades whiter.
More about teeth whitening at Smiles First Dental
Dental veneers are wafer-thin shells that bond to the front surfaces of teeth to improve their appearance.
They can be both porcelain veneers and composite veneers, and they treat a variety of problems, including:
Stains and discolouration
Unsightly gaps
Worn down teeth
Uneven, crooked, or broken teeth
Veneers are a quick, painless and very effective way to drastically change the colour, shape, and size of Mom's teeth giving her a perfect, confident smile.
More about dental veneers at Smiles First Dental
Remember, these are only two examples of treatments your Mom might receive during a smile makeover – we offer many more!
#4 Toothbrush Sanitiser
Protect your Mom from the dangerous bacteria that can lurk on the tip of her toothbrush.
We keep our toothbrushes in one of the wettest and dirtiest rooms in our house; then we plunge them into our mouths!
Rinse, store, and repeat! Sanitisers eliminate this nasty bacteria and come with changeable liners to fit most toothbrushes – electric and manual, and can be USB-rechargeable or plug into the wall.
Dental Care at Smiles First Dental
Smiles First Dental is your trusted Northmead dentist in Greater Western Sydney. Your oral health and smile are important to us.
Our highly trained staff treats all dental issues, including complicated problems related to other health conditions.
Our commitment to our patients is a stunning smile and maximised oral health.
We make life a bit easier for our patients by offering weekend appointments and late hours on weekdays.
GAP FREE CHECK UP AND CLEAN
We offer all patients gap-free check ups, cleans and all preventative treatments if you are in a private health fund ($180 for patients not in a private health fund).
Call us on (02) 9630 9996 or book your appointment online. We are your family friendly dental practice located at 19/5-7 Kleins Rd in Northmead.