3 Different Types Of Tooth Discolouration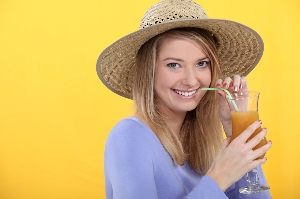 Every day, your teeth are exposed to factors that gradually take away their natural radiance.
Over time, your teeth get stained and become yellowish. This can have huge negative implications on the beauty of your smile.
In turn, this will decrease your self-esteem as you will always be anxious and ashamed of the appearance of your teeth. These are serious consequences which would make things more difficult for you.
If you do not want to lose the brilliance of your smile, then it is essential for you to know more about the different kinds of factors that eventually lead to tooth discolouration. Doing so will equip you with the right knowledge so that you can protect your precious teeth from those unpleasant stains.
Here are some details on the 3 different types of Tooth Discolouration so that you can effectively prevent them from taking away your bright, pearly white teeth.
Extrinsic Tooth Discolouration
This type of tooth staining is commonly caused by dark pigments found in the food that you eat and the beverages that you drink. Dark-coloured food such as berries, chocolates, even condiments like soy sauce contain pigments that stick to and stain your teeth.
In addition, drinks that cause tooth discolouration include wine, coffee, soda, and sports drinks. Experts recommend that to minimise the staining effect of these treats on your teeth, you should always rinse your mouth with water after consuming them.
Also, another habit that causes extrinsic discolouration of you teeth would be cigarette smoking.
Intrinsic Tooth Discolouration
In contrast to the extrinsic discolouration which involves the outer layer of your teeth, this type of tooth discolouration occurs when the inner structures of your teeth have been compromised. Common reasons that lead to this include:
Being exposed to too much fluoride, also known as fluorosis
Physical trauma which significantly affected dental development
Severe periodontitis which leads to internal bleeding
Furthermore, intrinsic tooth staining is largely due to constant exposure to acids. As you consume a highly acidic drink, for example, soda, the acids react with the enamel upon contact. This then causes the enamel to weaken and eventually get eroded.
Consequently, dental erosion exposes the yellow-coloured dentin which is less pleasant in colour compared to the pearly white enamel. That is why it is recommended to use a straw whenever you take a sip of these acidic drinks.
Tooth Discolouration As A Result Of Ageing
In essence, tooth discolouration due to age is actually a result of both extrinsic and intrinsic staining plus the daily wear and tear of your teeth. As people age, the enamel becomes thinner while the dentin becomes more yellowish and more visible. A lot of people argue that tooth discolouration is inevitable.
Then again, there are a number of ways in which you can effectively preserve the brightness of your smile. One would be to put much effort and attention in avoiding all these causes of tooth staining.
Another, is by regularly visiting your trusted Northmead dentist here at My Local Dentists Northmead for a state-of-the-art Teeth Whitening treatment.
Top-Notch Work On Teeth Whitening In Northmead
Having that perfectly radiant set of pearly white teeth is important if you want to have a perfect smile. For expert guidance on preventing tooth discolouration, consult your reliable dentist in Northmead here at My Local Dentists Northmead. We can provide you with high-quality in-office Teeth Whitening as well as your own take-home Teeth Whitening system.
Call us today to know more about our PAY NO GAP Offer, which includes: Check-up, Scale & Clean, Fluoride, and X-rays. If you are with a Private Health Fund, we can provide you with NO GAP preventive treatments! Book online or call (02) 9630 9996.
(We are located in Northmead and serve patients from Northmead, Westmead, North Parramatta, Wentworthville, Winston Hills, Old Toongabbie and from all Sydney metro areas.)