Dentures Northmead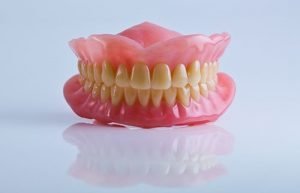 Dentures are another option for replacing missing teeth.
They are a removable appliance used to replace one or more missing teeth and they assist in chewing, speech and overall appearance of your smile.
Dentures are a cost-effective, non-invasive treatment
There are two types of dentures available:
Partial dentures
A partial denture is a great option for patients wanting to replace missing teeth.
Partial dentures are recommended for patients, who have one or more missing teeth in the upper or lower jaw, and these are held in place by clasps attaching to the remaining teeth. The partial denture consists of teeth attached to an acrylic pink base and is a great, cost-effective way to replace multiple missing teeth.
Full dentures
A full denture is an option for patients wanting a full set of teeth but have no natural teeth remaining in the upper or lower jaw.
Before you start denture treatment, we recommend that you come and see us for a general checkup and clean. In that appointment, the Northmead dentist will check your teeth, gums and soft tissue and will assess if you are a suitable candidate for dentures and discuss treatment options with you.
Dentures in Northmead
Call us on (02) 9000 1138 or book your appointment online.
We are located at 19/5-7 Kleins Rd in Northmead.