Root Canal Treatment Northmead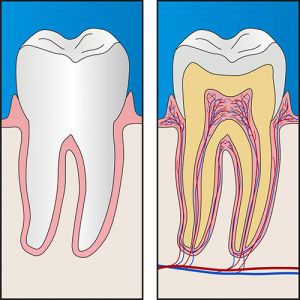 Root canal treatment, also known as root canal therapy, fixes problems with a tooth's soft core or 'dental pulp'.
When is root canal treatment needed?
Root canal treatment is required when decay, infection or trauma affect the nerve of a tooth.
The tooth may become painful, extra sensitive or begin to change colour.
If this happens, we need to remove all the debris and sterilise the canal. We then fill the canal with a material to prevent future infections.
What are the benefits of root canal treatment?
The main aim and benefit of root canal treatment is to save a tooth that we would otherwise need to remove.
Where possible, we will always aim to retain your natural teeth. This prevents the need for replacement teeth, which can be time-consuming, painful and costly.
At My Local Dentists Northmead, we use the latest technology
At My Local Dentists Northmead, we make sure your treatment is as fast and comfortable as possible with the latest equipment. We use apex locators and rotary files and take X-rays to complete your procedure
We will then complete the preparation of your tooth with a combination of files, irrigation and medication. We'll soon have you on your way, in the least possible time and in the greatest possible comfort!
We complete all root canal treatments using a rubber dam to ensure the root canal remains isolated and sterile.
What can you expect after treatment?
A well-performed root canal treatment will allow the tooth to function normally, and save the tooth from extraction, with a documented success rate of over 90%.
The whole treatment is carried out under local anesthetic so you do not feel a thing.
Root Canal Treatment in Northmead
If you think you may need an appointment, please contact us.
If a tooth requiring root canal treatment is left untreated, you may experience widespread gum and connective tissue infection, as well as the loss of the tooth. The sooner you see us, the better!
Root Canal Treatment in Northmead
Call your Northmead dentist on (02) 9000 1138 or book your appointment online.
We are located at 19/5-7 Kleins Rd in Northmead.