Dental Veneers Northmead
What are dental veneers?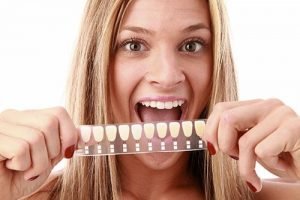 Dental veneers are wafer-thin shells that bond to the front surfaces of teeth to improve their appearance. They can be either porcelain veneers and composite veneers.
Veneers are a painless way to drastically change the colour, shape and size of your teeth and create a perfect, confident smile.
Veneers can give patients the straight, symmetrical, white smile of their dreams. They will improve the appearance of:
discoloured teeth that are discoloured or stained
worn down teeth
chipped or broken teeth
uneven or crooked teeth
teeth with unsightly gaps between them.
We offer two types of dental veneers – porcelain and composite.
Porcelain veneers
These are custom-made porcelain shells which bond to the surface of the tooth.
We start by taking impressions of your teeth to ensure a perfect fit for your mouth. Our dental lab can then create a natural-looking veneer that blends flawlessly with the rest of your teeth.
We use durable, strong porcelain to create the veneers. If you look after them well, veneers can last up to 25 years and they will stay stain-free thanks to the high-tech materials used.
All porcelain veneers are 100% made in Australia using TGA approved products. This gives our patients the confidence and assurance that comes with the highest quality materials.
Composite veneers
Composite veneers are a cost-effective alternative to porcelain veneers. We create them from the same strong resin material that is used for fillings.
The composite veneer process is a simple, non-invasive treatment that we can complete in one appointment.
The veneers will cover up any imperfections and flaws in the tooth. We match the shade of the resin to your adjacent teeth, allowing the veneers to blend in with surrounding teeth, for a natural appearance.
What are the benefits of veneers?
Dental veneers offer cosmetic benefits to patients who want to improve the appearance of their teeth.
Dental veneers:
give you dynamic colour variation and translucency just like tooth enamel to create a natural looking smile
are made of bio-compatible material that gum tissue usually tolerates well
require minimal tooth shaping during the fitting procedure
are stain-resistant
are easy to clean, just like your own teeth
can be more cost-effective than some other solutions for improving the appearance of your smile.
Are dental veneers for everyone?
Veneers may not be a good choice for people who:
clench and grind their teeth;
have unhealthy or weakened teeth;
do not have enough enamel on the surface of their teeth tooth.
Dental Veneers in Northmead
Our friendly Northmead dentists will be able to tell you whether or not veneers are right for you.
Dental Veneers in Northmead
Call us on (02) 9000 1138 or book your appointment online.
We are located at 19/5-7 Kleins Rd in Northmead.