Teeth Grinding Northmead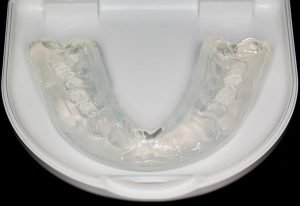 Teeth grinding, or bruxism, affects 8-10% of the population.
Grinding and clenching your teeth while you sleep can be caused by many factors, including:
a narrowed airway
small jaws
stress
anxiety or depression
While for some this may happen only very occasionally, for chronic nocturnal grinders, it causes damage to teeth as fillings, crowns and veneers are worn down, chipped or broken.
A person with bruxism may experience pain especially in the joint or the muscles of the temples as bruxing can wear away temporomandibular joints (TMJ).
To ensure no long-term problems are caused, book in to speak to one of our dentists and appropriate treatment can be discussed.
These treatments can range from simple hot packs and occlusal splints to orthopaedic and orthodontic treatments.
Teeth Grinding in Northmead
Call your Northmead dentist on (02) 9000 1138 or book your appointment online.
We are located at 19/5-7 Kleins Rd in Northmead.