Dental Tips: How does the Child Dental Benefits Schedule Help Your Children?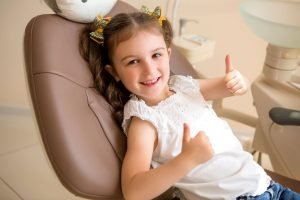 A survey, from the University of Adelaide, reveals that the dental health of Australian children is at risk.
The study, which surveyed 24,000 children from ages 5 to 14, shows that 25% of Australian children, ages ten and below, suffer from untreated tooth decay.

This is despite the fact that Australia supports the dental health of its children through its National Oral Health plan.
Survey leader Associate Professor Loc Do reported, "Over 40 per cent of children aged 5 to 10 years had decay in their primary [baby] teeth.
One-quarter of children in that same age group had never received treatment for their tooth decay. On average, Australian children aged 5 to 10 had 1.5 primary teeth with decay".
The news was almost as bad for older children. 33% of children aged 9-14 had permanent teeth with decay, and one-seventh have never received treatment for decayed permanent teeth.
At My Local Dentists Northmead, we are concerned about the health of Australia's children, particularly those in the Northmead region.
And if your child, or a child you know, may be one of the undertreated children, we have good news. The Child Dental Benefits Schedule (CDBS) is here to help that child receive the dental care they need and deserve.
Child Dental Benefits Schedule
The Commonwealth Child Dental Benefits Schedule is a dental benefits program supporting eligible children from 2–17 years of age.
It provides $1,000 over two years for an eligible child's essential dental services.
The Child Dental Benefits Schedule covers more than 3 million children, making them eligible for dental care funded through Medicare.
Who can receive the benefits?
Eligible children must be:
Between 2 and 17 for at least one day of the calendar year
Eligible for Medicare
Receiving one of the payments listed below for at least one day of the calendar year.
Your children are eligible if the child's parent, carer, or guardian receives:
Family Tax Benefit Part A
Parenting Payment, or
Double Orphan Pension
ABSTUDY
A child is eligible if they receive:
Family Tax Benefit Part A
Youth Allowance
Carer Payment
Disability Support Pension
Special Benefit
Parenting Payment
Financial assistance under the Veterans' Children Education Scheme (in some cases a consultation may be needed to determine this), or
Financial aid under the Military Rehabilitation and Compensation Act Education and Training Scheme (in some cases)
If this list is confusing, contact us at My Local Dentists Northmead, and we will help you determine the eligibility of your child.
What services are available?
Use of the $1000 CDBS funds is allowed for the following treatment:
Oral exam
X-rays
Routine dental cleaning
Fissure sealing
Extraction
Root canal
Non-essential treatments are not covered, including orthodontics and cosmetic treatment. In addition, dental services provided in hospitals are not covered.
Children's Dentistry at My Local Dentists Northmead
Children's dentistry services and more are offered to you and your child at My Local Dentists Northmead. Patients of all ages can receive treatments of all kinds, and with all of it conveniently under one roof!
At My Local Dentists Northmead, you can submit your claim directly after your child's treatment.
You may also file your claim by calling Medicare; or downloading a Medicare claim form and posting it to the Department of Human Services, GPO Box 9822.
Finally, you can submit your claim personally at the local Medicare Service Centre.
Further information is available on the Department of Health Website.
Please call us at My Local Dentists Northmead on (02) 9630 9996 to make an appointment for your child and take advantage of the Child Dental Benefits Schedule.
We are a specialist paediatric dentist practice and taking care of your children's dental health is of paramount importance to us at My Local Dentists Northmead.
At what age should a child have their first appointment?
We believe in starting young so that your child has the best oral hygiene and habits from an early age. We set children up with excellent oral health and a confident smile for the rest of their lives.
We believe that a child should be introduced to a friendly paediatric dentist by the time they are one year old, or when their first teeth appear. The earlier they become comfortable in the dental office, generally, the better their oral health can be.
Young children typically need to see the dentist once annually. Under some circumstances, however, the dentist may request they are seen every six months.
More about children's dentistry at My Local Dentists Northmead
Dental Care at My Local Dentists Northmead
My Local Dentists Northmead is your trusted Northmead dentist in Greater Western Sydney. Your oral health and the appeal of your smile are important to us. Our highly trained staff can handle all dental issues, including complicated problems related to other health conditions.
Our commitment to our patients is maximised dental health and a stunning smile.
We make life easier for our patients with late hours on weekdays and weekend appointments.
Child Dental Benefits Schedule
Bulk Bill for children who are eligible for MEDICARE CHILD DENTAL BENEFIT SCHEDULE
Up to $1000 worth of dental treatments over two years
Call us on (02) 9630 9996 or book your appointment online.
We are located at 19/5-7 Kleins Rd in Northmead.