Orthodontics For Your Perfect Smile!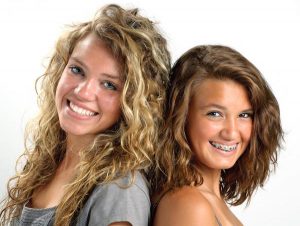 If you're thinking about investing in braces, there are a variety of things to take into consideration.
Your Northmead dentist may suggest orthodontic treatment if misaligned teeth begin to affect your or your child's oral health, or if you are unhappy with the appearance of your teeth.
But many factors go into whether orthodontic treatment would be right for you or your child, and which orthodontic treatment is the best for you.
At My Local Dentists Northmead, we offer a range of orthodontic treatments, and one will be perfect for your case. Popular treatments include regular metal braces, clear braces, and even porcelain veneers.
Braces
Braces are comprised of metal brackets glued to your teeth and connected by wires and tiny rubber bands. Nowadays, you can get brackets that closely match your natural enamel (making them less obvious), or you can get them in colour to make a fashion statement!
Braces pros:
Metal braces have been in use for a long period of time – many cases with good outcomes.
Metal braces are useful for many problems.
Braces are permanently installed, so require no specific action from patients.
Braces cons:
The treatment is easily apparent when smiling, laughing, or talking.
Patients with poor gum health or pre-existing dental health conditions may not be good candidates.
The treatment brackets and wires require no gum chewing and a restricted foods list so they don't pop off.
Metal braces can cause pain (cuts, abrasions, tightening)
Invisalign & Clear Aligners
What is Invisalign?
Invisalign moves the arrangement of your teeth into improved position without the use of traditional braces.
It uses a series of clear aligners that are worn up to 22 hours a day to improve the alignment of your teeth.
Your aligners are custom-designed for your teeth using 3D computer imaging technology.
The number of aligners is dependent on how bad the problem is and how much the teeth need to be moved. Each aligner is worn for two weeks.
The aligners can be removed, so there are no food restrictions, issues with flossing or brushing, problems with sports, or problems playing some musical instruments.
At My Local Dentists Northmead we are also able to offer an alternative with "Clear Correct". Our dentists have trained extensively to provide you with the best alternatives and treatments. Clear Correct aligners are worn for a three-week period. This time period allows for a balance of flexibility and control. Regular check-ups are required so progress can be evaluated and you can be given the next set of aligners. You will continue to wear the aligners until your teeth have moved into the planned position.
What should I do next?
Before you Invisalign or Clear Correct begin, it is important to have a thorough examination. This will allow us to detect and treat any active dental and periodontal disease that could compromise the aligners and your final treatment outcome.
Veneers
Dental veneers are wafer-thin shells that bond to the front surfaces of teeth to improve their appearance. They can be either porcelain veneers and composite veneers.
Veneers can give patients the straight, symmetrical, white smile of their dreams. We offer two kinds of veneers.
Porcelain veneers
These are custom-made porcelain shells that adhere to the tooth surface.
We start by taking impressions of your teeth to ensure a perfect fit for your mouth. Our dental lab can then create a natural-looking veneer that blends flawlessly with the rest of your teeth.
We use durable, strong porcelain to create the veneers. If you take good care of them, veneers can last up to 25 stain-free years thanks to the high-tech materials in their construction.
Porcelain veneers at My Local Dentists Northmead use TGA approved materials and are 100% made in Australia.
Composite veneers
Composite veneers are an economical alternative to porcelain veneers. We make our veneers from the same sturdy resin material that we use in our fillings.
The composite veneer process is a simple, non-invasive treatment that can be completed in one appointment.
The veneers cover up imperfections and flaws in the tooth, although the underlying tooth is not moved. The shade of the resin is matched to to your adjacent teeth, so the veneers blend in with your surrounding teeth, for a natural appearance.
Dental Care at My Local Dentists Northmead
My Local Dentists Northmead is your trusted dentist in Northmead in Greater Western Sydney. Your oral health and the appearance of your smile are important to us. Our highly trained staff can treat any dental issue, including complicated issues related to other health conditions.
Our commitment to our patients is dental health and an attractive smile for the holidays and a lifetime!
We like to make life a little bit easier for our patients by offering longer hours on weekdays and weekend appointments.
Call (02) 9630 9996 or visit us at 19/5-7 Kleins Rd in Northmead.