Dental Implants Northmead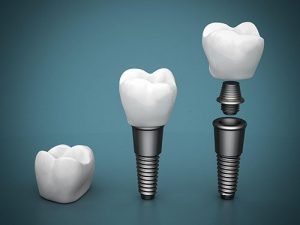 A dental implant is a comfortable, long-lasting and natural-looking option when you want to replace missing teeth.
Once in place, there is no more maintenance than with one of your own teeth. The dental implant looks and feels like a natural tooth, restoring your smile to its original beauty and function.
Made of titanium alloy, the dental implant is surgically placed into your jaw and acts as the artificial root of the tooth. It integrates with the surrounding bone, holding your new tooth securely in place.
Dental implants or dentures?
If you wear dentures but find they are uncomfortable or sore, or that they make it difficult to chew and speak, then dental implants can be an excellent alternative.
After the loss of a tooth, the bone in the surrounding regions will also start to be lost. This can make implants more difficult as there must be enough bone to hold the implant.
The longer you wait, the more bone will be lost. If this happens, bone grafting can give the implant a strong foundation.
The right choice for you
At My Local Dentists Northmead we will help you choose the treatment that is right for you.
Typically, we would replace a missing tooth with an implant over 3-4 appointments. However, we may spread these appointments over 2-3 months and sometimes even longer.
At My Local Dentists Northmead we will ensure you get the most suitable treatment type and duration to ensure the highest quality outcome.
Dental Implants in Northmead
If you think you may be a good candidate for a dental implant, please request an appointment with one of our friendly dentists.
The dentists will give you the best advice, tailored to your individual circumstances, after a consultation.
Dental Implants in Northmead
Call your Northmead dentist on (02) 9000 1138 or book your appointment online.
We are located at 19/5-7 Kleins Rd in Northmead.