The Gift of Dental Health for Father's Day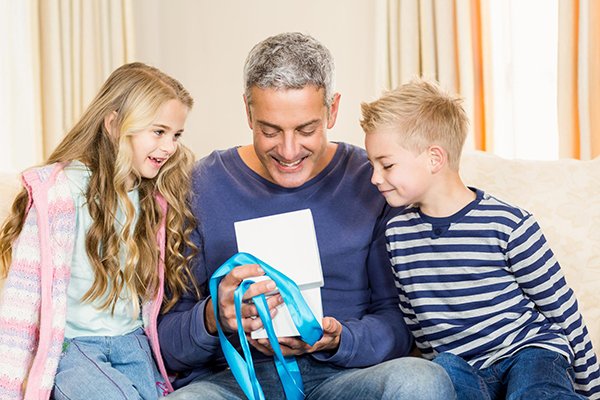 Don't forget: Father's Day is September 1st! Have you already gotten your gift, or are you one of us scrambling to come up with a last minute present?
As your dad ages, his health becomes even more important, and at Smiles First Dental we think that makes it a great day to give a gift that keeps on giving – the gift of oral health.

Did you know that oral health has connections to a variety of systemic illnesses and conditions? One way for men to lower risk for many diseases and promote overall health is to be sure they take care of their teeth.
Here's a brief look at some of the dental issues men face:
According to Knowyourteeth.com, the average man brushes his teeth 1.9 times a day and will lose 5.4 teeth by age 72
A smoker (male) can plan on losing 12 teeth by age 72
Only 20.5 per cent of men brush their teeth after every meal
The average man is less likely to brush his teeth twice a day (49%) 
So, take a look at some of the awesome gifts we suggest!
Mouthguards for athletic fathers
Does your dad still play sports? If so, you might consider the gift of a customised mouthguard to protect dad's smile and your family's peace of mind. The Australian Dental Association recommends custom-made mouthguards. Professionally made mouthguards help prevent concussion injuries, damage to teeth, soft tissues and gums. They can be customised to fit your dad's jaw and teeth.
Mouthguards at Smile First Dental
Dental travel kit
If your dad likes to travel, take regular camping trips, hunt, or fish, a great gift idea is a dental travel kit. A dental kit can be an easy-to-travel-with solution can make it easier to pack for business trips and vacations.
Dental kits come in many different sizes, but they should include a small toothbrush, mini-sized toothpaste mouthwash, and dental floss. A waterproof bag is also a great idea and will keep the kit protected when your dad is travelling. You can find pre-made dental kits online, or if you feel a bit more creative, create your own that focuses on your dad's specific dental concerns.
Electric toothbrush – Why not upgrade your dad's toothbrush to a cool new electric model? Electric toothbrushes are perfect teeth-cleaning devices and cutting-edge to boot! Electric toothbrushes offer improved plaque removal compared to regular manual toothbrushes and are an excellent choice for dads who may have mobility or flexibility issues. Electric toothbrushes also feature cool features, like built-in timers that ensure you brush for long enough. Some timers even break time down into 30-second intervals to ensure your dad brushes each section of his mouth for the proper time!
Bacon Flavoured Dental Floss – Moving from the purely practical to the exotic, we come to flavoured dental floss. Dental floss comes in a lot of unusual flavours including cupcake and absinthe! If neither of those seems right for your dad, you might consider bacon! Not only can you buy your dad bacon-flavoured floss, but you can also get an entire package of bacon-themed grooming supplies including bandages, floss, toothpicks, soap, lip balm & breath mints!
If your dad doesn't like bacon, or can't eat it, consider: Dill pickle floss; Breakfast floss that tastes like waffles, bacon, and coffee, or; Ranch dressing flavoured floss. The range of available flavours is amazing!
Teeth Whitening
Professional teeth whitening can be the perfect gift for dads. If your dad is a coffee drinker or suffers from yellowing teeth, teeth whitening can be a great way to restore his smile to the bright radiance it used to be. Smiles First Dental offers two great treatment plans.
Take-home teeth whitening. Your dad will use these trays at home to apply whitening gel every day. Treatment can last from a couple of days to weeks, depending on how discoloured his teeth are and the result he wants. He will soon begin to notice his teeth becoming brighter and shinier.
In-chair teeth whitening (Philips ZOOM! Whitening). We recommend in-chair teeth whitening for dads who want an instant result. Philips ZOOM! Whitening lightens and brightens the colour of natural teeth using a combination of a hydrogen peroxide gel and an ultraviolet lamp. This dentist-supervised, in-office procedure is safe, effective and clinically proven to make your dad's teeth up to eight shades whiter.
Teeth whitening at Smiles First Dental
Dental Care at Smiles First Dental
Smiles First Dental is your trusted Northmead dentist in Greater Western Sydney. Your oral health and the appearance of your smile are important to us. Our highly trained staff treats all dental issues, including complicated problems related to other health conditions.
Our commitment to our patients is maximised dental health and a stunning smile.
We make life a little bit easier for our patients by offering late hours on weekdays and weekend appointments.
Call (02) 9630 9996 or visit us at 19/5-7 Kleins Rd in Northmead.