Top 4 Home Remedies for Yellow Teeth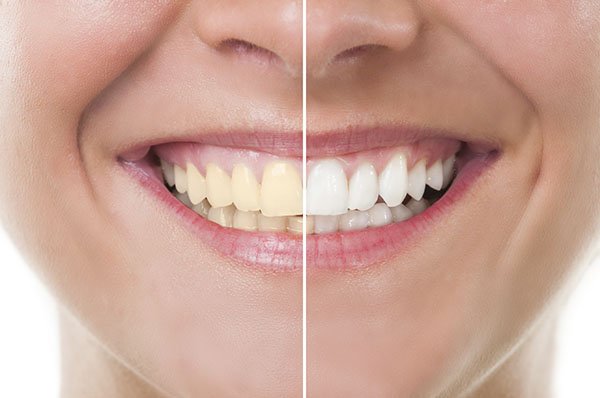 A stunning white smile creates a massive positive impact on the people you meet, and at the same time boosts self-confidence.
Unfortunately, smiling can be difficult for people who suffer from yellow teeth. Many people who have yellow or discoloured teeth are too embarrassed to smile.
At Smiles First Dental we are well-practiced in diagnosing the causes of yellow teeth, and the proper treatments to brighten your teeth, your smile, and even your life.
Why Do Teeth Become Yellow?
Several factors are involved:
Poor dental hygiene leaves stains, plaque, and tartar on your teeth.
Food and drink cause staining, particularly drinks like coffee, tea, and red wine, and foods like blueberries and soy sauce.
Smoking and chewing tobacco can lead to stains. Nicotine can leave staining deposits on teeth, not to mention the gum disease and bone loss that it causes.
Over time, the enamel on a tooth gets thinner and more see-through, allowing the yellow inner layer of the tooth (the dentin) to show through.
Other causes of yellowing include drug interactions, previous dental work, excess fluoride, and even trauma.
The problem becomes, what can be done?
Home Remedies?
There are a host of home-remedies; the Internet is full of them. Unfortunately, they are not proven to work, and may even damage your teeth.
Here are four common "home" remedies:
Baking soda and hydrogen peroxide
A paste of baking soda and hydrogen peroxide is said to remove plaque and bacteria to eliminate stains.
Apple cider vinegar
Some people recommend using a mouthwash of apple cider vinegar and water. While apple cider vinegar has been proven to whiten cow's teeth it also damages them!
Lemon, orange, or banana peels
Some believe that fruit peels will help whiten teeth if the peels are rubbed on them.
Activated charcoal
Activate charcoal is highly absorbent and is said to eliminate oral bacteria and toxins.
However, charcoal is highly abrasive and damaging.
You're not a cow, and you don't want to put strange substances in your mouth! Instead, consult with your Northmead dentist!
Remedies that Smiles First Dental KNOWS Can Work
1. Dental Hygiene
The home remedy Smiles First Dental recommends is to brush your teeth regularly, in the correct manner.
"Treat" yellow teeth by preventing them!
But if teeth remain yellow, Smiles First Dental has solutions – Teeth Whitening!
Before teeth whitening, we recommended a thorough check up and clean to ensure your teeth and gums are healthy enough to withstand the whitening process. The scale and clean removes surface stains and calculus, crucial for a more effective whitening result.
2. Take-Home Whitening
We start your take-home teeth whitening treatment by taking impression or moulds of your teeth. From these we construct custom-made trays that fit your mouth perfectly.
At home, you will use these trays to apply whitening gel each day. Your treatment can last from a couple of days to weeks, depending on how discoloured your teeth are and the result you want. You will soon begin notice your teeth becoming brighter.
We provide you with a whitening kit and instructions on how to keep your teeth whiter and brighter for longer.
3. The Zoom! Way
Zoom! Teeth whitening is one of the most powerful in-office teeth whitening systems available. Zoom! Whitening takes 45 minutes to one hour as opposed to the two to three weeks that many teeth whitening systems need.
In the Zoom! System, teeth are treated with a hydrogen peroxide gel that is exposed to an ultraviolet light that strengthens the action of the gel
This dentist-supervised, in-office procedure is safe, effective, and clinically proven to make your teeth up to eight shades whiter. You can leave your smiles first dental office with a noticeably whiter smile in one short visit!
Zoom! Whitening treatments are not designed to lighten dentures, crowns and bridges, porcelain or composite veneers, or any restoration material. A touch-up may occasionally be needed, particularly if you smoke and/or drink coffee, tea, or wine
If teeth cannot be treated externally, normally because the stains are "intrinsic" (deep in the tooth), we can still offer an answer with our tooth veneers, which cover up a variety of imperfections, including yellowed teeth.
We are happy to sit down for a consultation!
Take a Step to Whiter Healthier Teeth at Smiles First Dental
Visit Smiles First Dental for a dentist in Northmead dedicated to providing you with the personalised service you and your family deserve.
Gap-Free Check Up And Clean
We offer all patients gap-free check ups, cleans and all preventative treatments if you are in a private health fund ($180 for patients not in a private health fund).
Contact us at (02) 9630 9996 or book your appointment online.