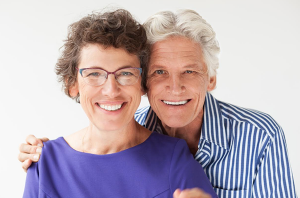 We get one set of permanent teeth and if we lose them, they can only be replaced with temporary, although durable, restorations. The three main options for tooth replacement are dentures, dental bridges, and dental implants.
Each of these treatments has their pros and cons but dentures are one of the most popular tooth replacement options available today, often because they are quite economical compared to the other options.
For hundreds of years, dentures have been the go-to treatment for people with missing teeth, and recent advances in dentistry have resulted in dentures that are more comfortable, attractive, and functional than ever before. At Smiles First Dental we offer the latest denture technology for patients who have missing or damaged teeth.
Awareness of the pros and cons of modern dentures can our help patients feel more confident about what to expect from their denture treatment.