Dental Care at My Local Dentists Northmead – What Can You Expect?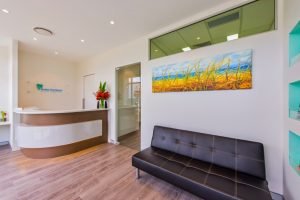 At My Local Dentists Northmead, we have designed our practice to support you and your oral health.
When you visit My Local Dentists Northmead, you become part of the My Local Dentists Northmead family.
We are committed to making you an active patient – one who understands and directs their own dental health.

We are here to give you information, help you make treatment and hygiene decisions, and carry out the treatments we select, together.
We know that coming to the dentist can be a bit daunting, so we have designed everything we do to be soothing, comfortable, and quick.
We provide you with world-class dentistry, at a price that you can afford!
From the moment you first call us or find us on the web, through your intake and treatment, all the way through aftercare, we give first-class care, so you not only leave our offices with a stunning smile but happy with the experience and looking forward to returning to us!
Pre-care
Even before visiting us, you can use our comprehensive website to get some idea of how easy we can make a dental visit.
We are conveniently located just off James Ruse Drive, with public transportation nearby and street parking directly in front of our office door.
Our hours are scheduled to give our patients with busy schedules maximum flexibility. We are open late on several weeknights and offer a full "business hour" schedule on Saturdays.
When you do get to our office, be sure, if it is your first visit, to leave some time to do your intake paperwork.
Our offices are pleasant and comfortable, and our staff is more than happy to help you with any questions you might have.
Our Team
Our team, from front desk to dental surgery, is dedicated to giving you the world-class dental care you deserve. Our training, experience, and skills are second to none!
Dr Thomas Choi is a graduate of both Bachelor of Pharmacy and Bachelor of Dentistry (Honors) programs at the University of Sydney.
Dr Choi's particular interest in is orthodontics, particularly early intervention and airway orthodontics, and implant dentistry.
Dr Shweta Gulvady was raised in Sydney, then moved to South Australia where she obtained a Bachelor of Dental Surgery from the University of Adelaide.
She is a member of the Australian Dental Association and is registered with the Australian Dental Board.
Our front-desk and dental assistants are helpful, friendly, and sympathetic.
Our Treatments at My Local Dentists Northmead
We are an "all-in-one" dental practice, so you and your family can get all of your regular dental care taken care of in one, convenient place!
Here are some of the treatments for which our dentists have expertise:
We offer one more valuable service – emergency dental care.
If it's a broken tooth, injured gums, or a child who has completely knocked a tooth out, dental emergencies interfere with eating, speaking, or other day-to-day activities.
If left unaddressed, they only tend to get worse.
This is why, when an emergency arises, you should immediately make an appointment with My Local Dentists Northmead so we can calm you down, determine the extent of the emergency, give you the best possible care, and help you return quickly to your daily life.
We can treat emergencies such as dental infections, structurally damaged teeth, restoration of missing fillings or crowns, and emergency tooth extraction.
We hold accreditations for Minimax Implants, Invisalign®, and Philips Zoom Whitening!
Aftercare
Our care does not end when your treatment is concluded. When your treatment is over, you'll stop by our front desk to make sure that your next appointment is scheduled before you leave our office. We'll equip you with any advice, training, or materials you need for follow-up care.
We can also answer billing questions at this time.
Health Funds that we support include:
Medicare
HICAPS
com.au
CHBS Health Fund
nib First Choice
Westfund Health Insurance
We can also discuss other options with you, such as the Child Dental Benefits Schedule.
This program of the Australian government supports eligible children (we can help you determine if your child is eligible) for $1,000 over a two-year period.
We are committed to giving you the best, healthiest smile you can possibly have!
Dental Care at My Local Dentists Northmead
My Local Dentists Northmead is your trusted Northmead dentist in Greater Western Sydney. The appearance of your smile and your oral health are important to us.
Our highly trained staff treats all dental issues, including complicated problems related to other health conditions.
Our commitment to our patients is maximised dental health and a stunning smile.
We make scheduling a little bit easier for our patients by offering weekend appointments and late hours on weekdays.
GAP FREE CHECK UP AND CLEAN
We offer all patients gap-free check-ups, cleans and all preventative treatments if you are in a private health fund ($180 for patients not in a private health fund).
Call us on (02) 9000 1138 or book your appointment online.
We are located at 19/5-7 Kleins Rd in Northmead.