Presenting Tongue Cleaning to Child's Oral Health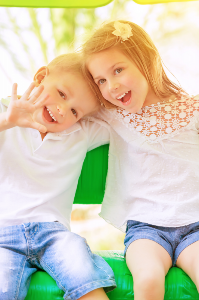 As children grow up, it is important that you start teaching them the basics and importance of tongue cleaning. Brushing and flossing the teeth is good, but combining these two with tongue cleaning is even superior for an impeccable oral hygiene.
Why Do I Need to Clean My Tongue?
This is the first question that your kids might ask you when you tell them to clean their tongue. They could be used to tooth brushing but not scraping of tongue. The white film found on the surface of the tongue must be scraped away for it can cause unwanted conditions in the body. Here are the main reasons you can tell them on why tongue cleaning is also a must for their vulnerable oral health:
Get rids of bad breath
Improves taste buds for better food tasting
Prevents body from reabsorbing toxins
Good for their delicate teeth and gums
Upholds overall oral wellbeing
What Can I Get from Cleaning my Tongue?
Benefits? A lot. Similar to human skin, your tongue can reveal the condition of your health. It is a diagnostic tool that displays how are your internal organs doing. That is why kids must understand that while they clean their tongue they also soothe their internal body through stimulating and massaging them. A clean tongue only means that your internal body is pretty much healthy for toxins are removed through scraping.
Here are the additional benefits of tongue cleaning to your overall body and oral health:
Cleans your mouth as a whole and reduces the chances of getting teeth and gum infections
Tongue cleaning strengthens your immune system
Digestive system is also cleansed when tongues are hygienic; hence it highly improves digestion and bowel movement
Tongues become nice looking without the unpleasant white or yellow coating
What Can I Use for Tongue Cleaning?
There are two types of tongue cleaners available. Tongue scrapers and tongue brushes can be found in health food stores, pharmacies and online stores. These tools are considerably successful in removing the bacteria and toxins from the surface of the tongue and delivers marvelous dental health over time. If you don't have any tongue cleaners at home, spoons can be good alternatives. Simply invert it and you're good to go for scraping bacteria away.
Remarkable Child's Oral Health in Northmead
You and your child can have an enjoyable bonding while doing the tongue cleaning routine. Parents must thoroughly guide their children, especially if it is their first time to learn the hygiene practice. To find out more about the benefits of tongue cleaning to your child's oral health, consult your dental care partners here at My Local Dentists Northmead. We provide exceptional, wide-ranging dental advice and treatments to your whole family to deliver a remarkable mouth and teeth condition.
Call us today to know more about our PAY NO GAP Offer, which includes: Check-up, Scale & Clean, Fluoride, and X-rays. If you are with a Private Health Fund, we can provide you with NO GAP preventive treatments! Book online or call your Northmead dentist on (02) 9630 9996.
(We are located in Northmead and serve patients from Northmead, Westmead, North Parramatta, Wentworthville, Winston Hills, Old Toongabbie and from all Sydney metro areas.)