The Significant Link of Oral Health and Overall Health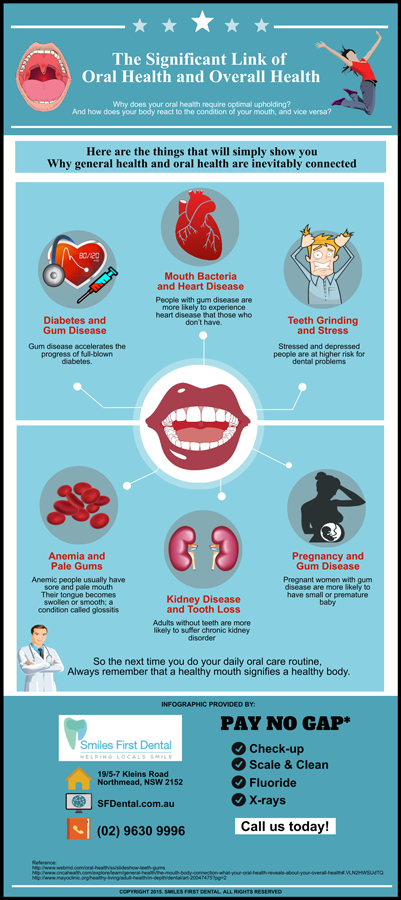 When you clean your mouth by practicing proper oral hygiene, you are also helping your body to get rid of those bacteria circulating around your system. Thus, if you are already aware of the mind-body connection, it is also critical that you know the significance of mouth-body connection.
A phrase that states "healthy mouth, healthy you" is a true statement. It simply means that you cannot achieve a healthy body if you do not have a good oral health.
At an early age, parents must teach and emphasise the role of good oral care habits to their children. In this way, the good practice they have learned from their childhood years will undoubtedly be applied when they became full-grown adults.
Because as people age, dental problems like tooth decay, tooth loss, and gum disease are more likely to occur especially when a person has poor oral hygiene. These conditions, if not prevented or treated, will lead to various severe health disorders.
Take the first step in prevention and oral hygiene education. Your trusted dental care partners here at My Local Dentists Northmead offer wide-ranging dental care procedures that positively enhance the wellbeing of your oral health.
With our modern dental facility and remarkable expertise in dentistry field, we make your life happier and healthier by means of an admirable overall oral wellness.
Call us today to know more about our PAY NO GAP Offer, which includes: Check-up, Scale & Clean, Fluoride, and X-rays. If you are with a Private Health Fund, we can provide you with NO GAP preventive treatments! Book online or call your Northmead dentist on (02) 9630 9996.
(We are located in Northmead and serve patients from Northmead, Westmead, North Parramatta, Wentworthville, Winston Hills, Old Toongabbie and from all Sydney metro areas.)