Celebrating Dental Health Week in Northmead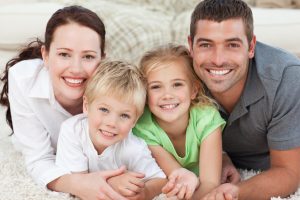 The first complete week of August (6-12) is the Australian Dental Association's (ADA) Dental Health Week!
Dental Health Week is the ADA's annual oral health event, and My Local Dentists Northmead is happy to work alongside the ADA during the week and as the year continues.
Dental Health Week has three primary objectives:

Promote oral health education and awareness in the general community
Motivate and educate dental professionals to promote oral health
Encourage ongoing collaboration within the dental profession
And each year Dental Health Week carries specific pieces of advice related to the first objective. For 2018 those are:
Brush teeth twice daily with a fluoride toothpaste
Clean in-between teeth once a day (with floss or interdental brushes)
Eat a healthy balanced diet and limit sugar intake
Regularly visit the dentist for check-ups and preventive treatment.
Let's take a closer look at what's beneath these pieces of advice.
Brush teeth twice daily with fluoride toothpaste
 The same advice your dentist gives you, and the advice your parents probably gave as well. But the important thing is to brush correctly and effectively. The ADA suggests:
Brush your teeth at least 2 minutes, in the morning and in the evening.
Use a small dab of fluoridated toothpaste.
Use a soft-bristled toothbrush with a flexible neck and small head.
Clean your teeth systematically, holding the toothbrush at the gumline at a 45 degree angle.
Don't use too much pressure – applying excess pressure can damage gums and tooth enamel.
Choose toothpaste with fluoride.
Replace your toothbrush every 3 months.
Fluoride toothpaste is almost always the recommended choice, but it is particularly important if you're at high risk of developing tooth decay.
You may be a person at 'high decay risk' if:
You're undergoing orthodontic treatment (braces)
Your diet is high in sugar or acid
You have difficulty brushing your teeth due to arthritis or a disability
You have 'Dry Mouth'
You live in an area without fluoridated water
However, don't use fluoride with children under 1.5 years old, follow your Northmead dentist's recommendation up until age six, and help your child brush until they can spit toothpaste out without swallowing any. Your My Local Dentists Northmead dentist will help you choose the best toothpaste your teeth need.
Clean in-between teeth once a day (with floss or interdental brushes)
The ADA and My Local Dentists Northmead are agreed on the importance of flossing:
Make flossing part of your oral hygiene regimen.
Floss at least once a day.
Ask your dentist to demonstrate the correct flossing technique.
Ask your dentist if interdental aids will complement your flossing.
Your children should be flossed as soon as they have teeth that touch.
Flossing, however, must be done correctly:
Wind approximately 45 cm of floss around your middle fingers and grip it tightly between your thumbs and index fingers.
Keeping the thumb and index close together, gently steer the floss between your teeth, being careful not to damage your gums with extreme movements. Use a side-to-side motion so that the sides of both teeth are cleaned equally.
To clean the spot where a tooth meets the gums, curl the floss around the base of the tooth and slide it carefully under the gum.
If you have difficulty with flossing or brushing talk to us at My Local Dentists Northmead, as we can suggest alternative options.
Eat a healthy balanced diet and limit sugar intake
The ADA has general recommendations for a dental-health diet:
Limit how much sugar you consume – it is the most common cause of tooth decay.
Fluoridated tap water is the best drink choice.
Read the ingredients panel on food products as many have hidden sugars.
Choose teeth friendly foods such as cheese, nuts and vegetables.
Avoid snacking and grazing.
Learn more about sugar and your oral health here
Regularly visit My Local Dentists Northmead for check-ups and preventive treatment
Regular dental visits are key to maintaining healthy teeth and gums. Dentists check for problems that you might not see or feel, like early signs of tooth decay, gum disease, and more serious issues like oral cancer.
To assist our community, during Dental Health Week and going forward, My Local Dentists Northmead is proud to offer the following promotions:
Gap-free check up and clean. We offer all patients gap-free check ups, cleans and all preventative treatments if you are in a private health fund ($180 for patients not in a private health fund).
Extended Hours – For the convenience of our community, we keep evening and weekend hours
Monday – Tuesday: 9am – 8pm
Wednesday – Friday: 9am- 6pm
Saturday: 9am – 4pm
Dental Care at My Local Dentists Northmead
My Local Dentists Northmead is your trusted dentist in Northmead in Greater Western Sydney. Your oral health and the appearance of your smile are important to us. Our highly trained staff treats all dental issues, including complicated issues related to other health conditions.
Our commitment to our patients is maximised dental health and a stunning smile.
We make life a little bit easier for our patients by offering late hours on weekdays and weekend appointments.
Call (02) 9630 9996 or visit us at 19/5-7 Kleins Rd in Northmead.