Less Sugar Intake, Less Tooth Decay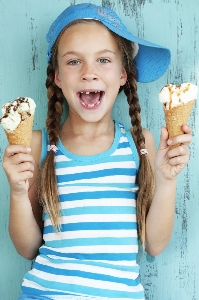 Even though people have put in extra attention to dental and oral wellness today, tooth decay continues to rank as one of the most common chronic illnesses.
In a study that was conducted worldwide, it was found that tooth decay has a global prevalence of 35 per cent. Here in Australia, up to 30 per cent of adults have untreated tooth decay.
In order to provide a means to solve this concern, it would be beneficial to address its causes first. One of the major contributors that should be tackled would be sugar consumption. Bacteria in your mouth feed off the sugars from the sweets that you and your children enjoy. As a result, plaque builds up and releases acids that damage the teeth.
For this reason, experts suggest that the sugar consumption will have to be always in check.
WHO's Reminders On Sugar Intake
So as to address the harm that can be brought about by unregulated sugar intake, the World Health Orgnisation (WHO) established a set of guidelines. According to this, sugars should only sum up to 10 per cent of total energy intake. This is an equivalent of 50 grams of sugar in a day. Furthermore, WHO reiterates that the daily target should only be 5 per cent or 25 grams for a day.
Despite the presence of these reminders, tooth decay is still a major problem for a huge number of people..
A Move To Change The Recommendations On Sugar Intake And Tooth Decay
Researcher from London have recently published a study which explored the correlation between the WHO-recommended daily sugar intake and the onset of tooth decay. They have found that despite the regular use of fluoride, tooth decay still occur for as long as sugar intake rises. For both kids and adults, the incidence of dental caries significantly increased as the sugar intake rose from 0 to 10 per cent. The findings pushed the researchers to recommend that the suggested daily sugar intake should be cut down to half, pushing it further down to just 3 per cent.
Comprehensive Dental Care In Northmead
When it comes to preventing tooth decay and other dental and oral health problems, it is best to consult your trusted Northmead dentist here at My Local Dentists Northmead. We can provide you with high-quality dental care that is convenient and affordable for you so that you and you family can easily achieve optimal dental and oral wellness.
Call us today to know more about our PAY NO GAP Offer, which includes: Check-up, Scale & Clean, Fluoride, and X-rays. If you are with a Private Health Fund, we can provide you with NO GAP preventive treatments! Book online or call (02) 9630 9996.
(We are located in Northmead and serve patients from Northmead, Westmead, North Parramatta, Wentworthville, Winston Hills, Old Toongabbie and from all Sydney metro areas.)