5 Ways to Prepare for the Next Dental Visit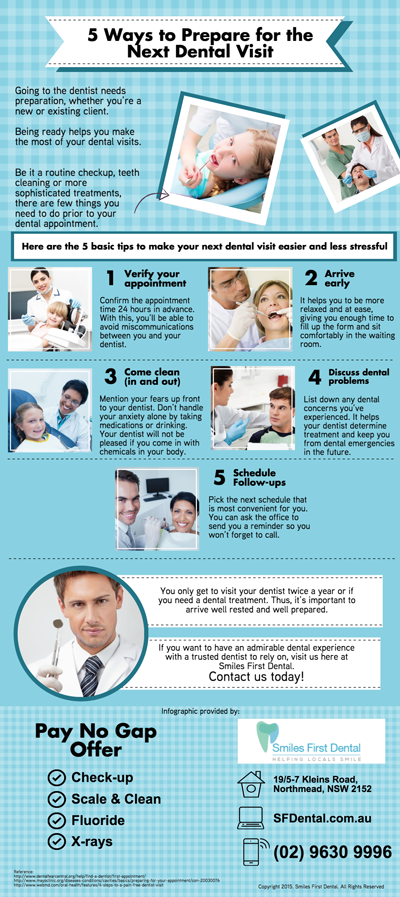 If you're encountering a dental pain, set an appointment with your Northmead dentist as soon as possible. Though you are in a hurry to eliminate the pain, you still need to be prepared for your next dental visit. Coming prepared and sitting comfortably in the waiting room can help you to be relaxed, making your dental visit worth the while and stress-free.
Whether you come for a minor treatment or major procedure, there are few things you still need to consider before attending your dental appointment. Preparedness involves a lot of things, first off is your time of arrival – the earlier, the better. Also, come clean all throughout. It means you need to clean your mouth thoroughly at home and be sure to come without taking any medications or alcoholic drinks just to ease your fear.
Remember, your dentist has the ability to get rid of your anxiety, and they can choose what option suits you best. The best thing you can do for your dental fear is to arrive well rested and get enough sleep the night before your appointment. Then, schedule your follow-ups in your most convenient time and date.
Preparing yourself before your appointed dental visit will simply let you make the most of your appointment. For more information on preparing for a dental appointment, visit the dental team you trusted with your oral health the most in Northmead here at My Local Dentists Northmead.
Whether you're a new or existing patient, we make sure that you can get the information you need regarding your overall dental health including your dental visits with us. We have a wide range of dental treatments that will help restore, improve and uphold your dental and oral wellbeing, so every visit you make to us is worth your time and money.
Call us today to know more about our PAY NO GAP Offer, which includes: Check-up, Scale & Clean, Fluoride, and X-rays. If you are with a Private Health Fund, we can provide you with NO GAP preventive treatments! Book online or call (02) 9630 9996.
(We are located in Northmead and serve patients from Northmead, Westmead, North Parramatta, Wentworthville, Winston Hills, Old Toongabbie and from all Sydney metro areas.)