How to Overcome Dental Fear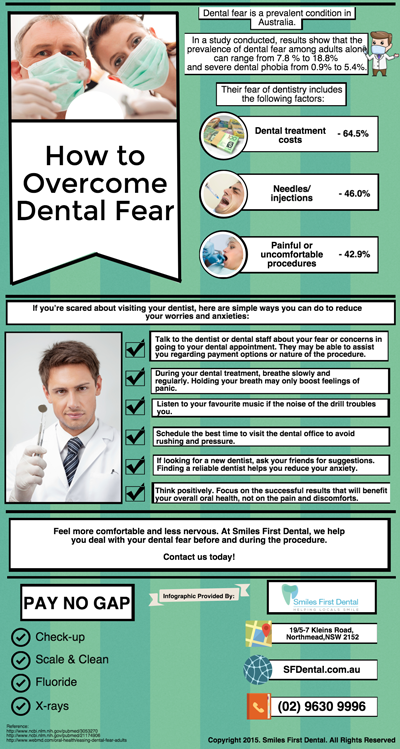 Other people consider dental exams as a necessary routine of that particular day, but some deem it as a nightmare just a thought of seeing the dentist or undergoing a treatment. Dentophobia is the term called for such kind of anxiety.
People who suffer from dental fear are aware that the condition is irrational yet they tend to be powerless to face it. Since they are fearful, they'll do anything just to avoid the consultation. If the situation gets worse, the patient may ask the help from a psychiatrist to cope up with the phobia gradually.
Fortunately, there are many ways you can do to defeat your dental phobia. The moment you visit your clinic, tell your dentist you're troubled. As long as the dentist is ready to listen to your concerns, he or she can address your issues effectively.
If you got the approachable and reliable dentist, then you are indeed lucky. It's also best to choose the perfect schedule for you so when you arrived at the clinic you still have time to be calm and relaxed. Music helps a lot.
While waiting for your turn, bring a music gadget to help you get rid of the annoying noise created by drills and the like. Lastly, be an optimistic patient. Dental treatments, if done right by your dentist, foster countless benefits for your general health and oral wellbeing. So there's no reason to be afraid, especially if you're required to undergo a procedure.
Your trusted Northmead dentist here at My Local Dentists Northmead offers wide-ranging and excellent oral care treatments for your various dental problems. Through our state-of-the-art procedures, we always do the best that we can to help you feel more peaceful and comfortable all throughout the process.
We have friendly yet proficient dental team who gives out outstanding care and compassion, so you can quickly reduce your dental fear and achieve admirable oral wellness for life.
Call us today to know more about our PAY NO GAP Offer, which includes: Check-up, Scale & Clean, Fluoride, and X-rays. If you are with a Private Health Fund, we can provide you with NO GAP preventive treatments! Book online or call (02) 9630 9996.
(We are located in Northmead and serve patients from Northmead, Westmead, North Parramatta, Wentworthville, Winston Hills, Old Toongabbie and from all Sydney metro areas.)