Oral Bacteria: Types, Roles and Health Effects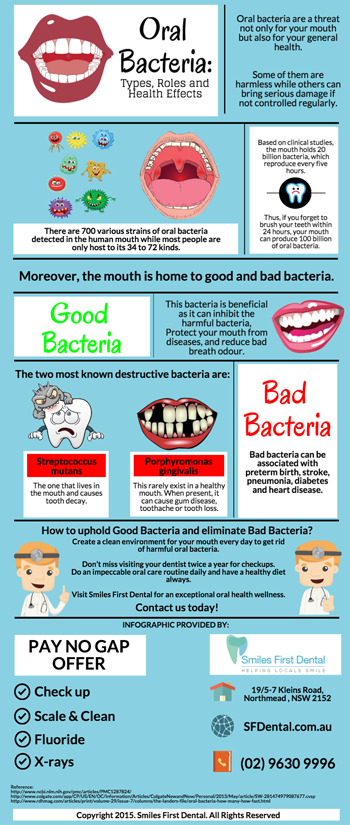 Just because you brush your teeth, doesn't mean you are already safe from countless oral bacteria. These microorganisms can hide underneath your teeth and gums, where your ordinary toothbrush can't reach. That is why when it comes to your hygiene, doing an extraordinary effort daily is a must.
The primary goal is always to reduce the possibility of gaining cavities, plaque and bad breath as much as possible. If dental problems are left untreated, you might undergo invasive treatments and spend too much for certain dental procedures.
There are only two kinds of bacteria that will either protect or harm your teeth and gums – these are the good oral bacteria and bad oral bacteria. Good bacteria are the most beneficial type of oral microbes as they help lessen the number of harmful bacteria in your mouth.
These bacteria also aid the entire environment of your mouth by reducing bad breath odour. However, bad bacteria are the ones that must be managed properly inside your mouth since they can cause tooth decay and gum disease.
Oral bacteria, regardless of their types, continually dwell in the oral cavity; thus proper treatment every day will allow the good bacteria to live more over the damaging ones.
The key to a healthy mouth and teeth is through impeccable oral hygiene. It is best to use different oral care products that fight bad oral bacteria such as mouthwash and toothpaste. To enhance your daily fight against cavities and decay, visit your trusted Northmead dentist regularly for routine checkups and cleaning.
Here at My Local Dentists Northmead, we have wide-ranging oral care treatments that suit your various dental needs. Through our high-quality dental procedures, we can help you prevent numerous dental complications and just gain exceptional oral wellness.
Call us today to know more about our PAY NO GAP Offer, which includes: Check-up, Scale & Clean, Fluoride, and X-rays. If you are with a Private Health Fund, we can provide you with NO GAP preventive treatments! Book online or call (02) 9630 9996.
(We are located in Northmead and serve patients from Northmead, Westmead, North Parramatta, Wentworthville, Winston Hills, Old Toongabbie and from all Sydney metro areas.)